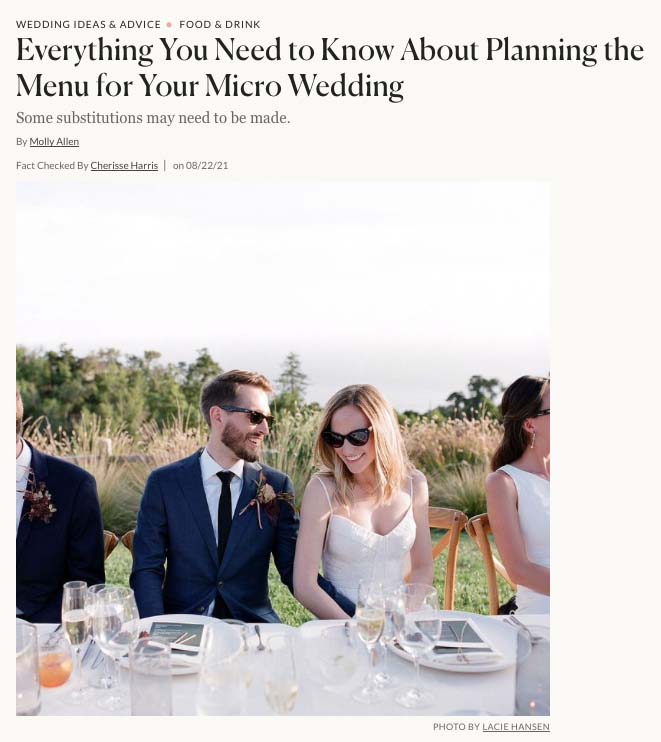 For many couples, planning a wedding comes with an extensive guest list. But we all know that 2020 turned that concept on its head. Now, more and more couples are reimagining their weddings, with many opting for a micro wedding to tie the knot with those that are truly nearest and dearest to them.
A micro wedding is designed to be an intimate affair, and typically that means there are no more than 50 guests on the list. But just because you're going the micro route, it definitely doesn't mean you need to sacrifice the details. It might just be the opposite.
There's no need to ditch your pretty floral designs or decked-out tablescape, and you certainly don't need to throw away your plans for enjoying a beautiful meal and celebrating with those you love the most. In fact, fewer guests may even mean more options!
A micro wedding definitely doesn't have to mean you're settling for a micro menu, but there are a few key tips to keep in mind as you're planning. Read on for everything you need to know about planning the menu for your micro wedding.
Switch Up Cocktail Hour
One of the most popular times for mingling is during cocktail hour. For micro weddings, that tradition may be switched up a bit, but that certainly doesn't mean it's a practice of the past. "People aren't necessarily changing the style of the party they're having," says Jeffrey Selden, managing partner of Marcia Selden Catering & Events. "They're being more thoughtful of the style of service and adapting to a new way of service."
According to Selden, continuing to pass hors d'oeuvres is still an option, especially for those who want a reception that's a bit more casual, rather than a seated dinner. "For that style of service, we've been doing mini appetizers that are individually plated and passed on large trays. They're items that are easy to eat, with no knives required," he says.
Items that are intentionally crafted to be left at room temperature have become very popular, as well as items that are one bite and can be served on a single dish or skewer. "Consider things that are self-contained," says Hester Parks, owner of Park Avenue Events. Items such as an antipasto skewer, chicken skewers, and sesame chicken in wonton cups are all great options.
If you do prefer to have an appetizer buffet station, spread out multiple stations around your venue with the same offerings. With this setup, Parks suggests assigning four or five guests to have their own station. "Each station should then have a dedicated server behind plexiglass," she says.
If you plan to have your guests seated for your reception, consider ways to still incorporate creative appetizers. Switch things up with the concept of stations and individually plate the appetizers instead. "If you want to do a raw bar or a charcuterie board, offer them in individual servings to prevent people from serving themselves from a large platter," says Amy Nichols, founder of Intimate I Dos by Amy Nichols Events.
Don't Be Afraid to Go Over-the-Top
With fewer people on the guest list, chefs can play a bit more. "Have fun with your menu!" says Nichols. "Talk to your caterer about ways to make your wedding day memorable. It may be that your chef has a signature dish that you'd never think of to offer at a wedding, and it could be something you love."
With fewer plates to prepare, it definitely means gourmet, top-notch dishes are more attainable. "If food is a priority and something that you and your partner are passionate about, consider wowing your guests," says Nichols. "A micro wedding also enables you to go for something totally untraditional. Consider serving a type of cuisine that's harder to do for a large scale guest count."
As you're thinking of specialty menu items, tap into regional cuisines that you and your partner absolutely love, or even celebrate with a nod to the restaurant where you had your first date. At a recent rehearsal dinner, the bride even decided to serve fried chicken from her favorite fast-food restaurant!
Don't Totally Write-Off the Buffet
With a smaller group, a buffet-style menu is still a possibility. But it has to be done with the right setup. With plexiglass shields up, along with having the catering staff on the other side of the line for service, it's definitely doable when all of your guests are close friends or family. "For one wedding, we gave everyone their own set of serving pieces," says Selden. "That way you still see the visuals and get the look of having a full buffet."
To prevent crowding at a buffet, consider spreading out the stations around the venue, and create a strategy to call only a few guests up at a time. If you're unable to do a buffet in a safe manner, given your venue or budget constraints, opting for a plated meal is, of course, a great choice from a food safety standpoint.
Get Creative With Dessert 
Long gone are the days of a traditional, tiered white wedding cake being the only option for couples. And the list of options gets even longer with a micro wedding. Selden suggests considering miniature desserts, each individually plated. Or, go for a coursed out menu of plated desserts to offer a flight experience for guests to enjoy several different sweets. Hello, mini cheesecakes, a layered trifle, and a macaron!
If you do still want the traditional cutting of the cake, Parks suggests doing a little party trick. "A lot of couples have been doing a larger faux cake to cut the cake," she says. "Then, the catering company cuts the real cake behind the scenes." Or, opt for a darling mini cake and dedicate one person to cut and serve the cake.
Keep the Bar, but Play It Safe
Just because your guest count is lower, it certainly doesn't mean there isn't a party to be had. But because micro weddings are typically being hosted due to safety concerns, there are a few things to keep in mind to be sure you're playing it safe with bar service.
According to Parks, it's important to consider spacing when it comes to setting up bars. If your venue allows for it, choose two bar locations so you can spread out service for your guests and prevent over-crowding.
Once the bar is set-up safely, it's all about finding the best menu options for you and your guests. "Signature cocktails are always fun, and with a micro wedding, chances are, you already know what everyone's favorite drink of choice is," says Nichols. "You can better plan for the bar if you know your crowd is mainly a vodka crowd or if they personally prefer wine."
According to Selden, options for split bottles of wine or cute mini bottles of rosé or Champagne with a paper straw have become incredibly popular. Pre-batched cocktails have become a great option for micro weddings as well, as caterers can make the cocktails in batches and pre-bottle them before service. Plus, then there's an option for a cute custom label to be added for the couple.
Another great way to add an extra level of safety for your guests, while incorporating a personalized touch, is to include custom coasters. Parks suggests incorporating coasters that go on top of a drink as they're being passed to the guest.
To really be sure of everyone's drink preferences, don't be afraid to ask ahead of time. "Ask people to list their favorite drink (or favorite wine) on their response cards, and then you can work those requests into your wedding day drink menu," Nichols suggests.
Consider Food Delivery for Virtual Guests
If you're opting for a micro wedding because you had to reimagine your big day, chances are, there are a few people that were taken off the guest list. Make their experience just as special as they join in the celebration virtually. Selden suggests the option of a home party box. "It's such a great way to make everyone feel included," he says. Check with your caterer on the possibility of putting together boxes to deliver to your guests at home that might include a bottled signature cocktail, a mini bottle of Champagne, snacks, or a selection of mini desserts.