Extravagant birthday parties aren't just for kids anymore! Throwing a destination party is the perfect way to celebrate your loved one's special day in a unique and memorable way. If you're not sure where to start, don't worry! At Park Avenue Events, we know what it takes to plan an unforgettable destination birthday party because we did it for Regina's 30th last year. From choosing a location to arranging activities, here's everything you need to know about planning the party of a lifetime!
What is a Destination Birthday Party?
A destination birthday party is more than going on a trip. It includes many of the traditional birthday elements with an added spark. Often, the best destination parties don't require much travel at all. A one-of-a-kind destination party comes to life with unique elements and events throughout the day.
How Do You Throw a Destination Birthday Party?
To plan an exceptional destination birthday party, you need a unique location, delicious food and drinks, over-the-top decorations, customized details, and multiple events and entertainment throughout the day (or weekend!). Here's how we planned Regina's 30th destination birthday party to help you find tips, inspiration, and ideas!
1. The Location
For Regina's destination birthday party, we rented a spacious Miami vacation home with a huge pool and tons of space for friends and family. While you can rent out an event venue, a vacation home is much more comfortable and provides options for relaxing, mixing drinks, and even spending the night. However, it's essential to make sure your rental home allows you to have multiple guests. If you can't find the right rental property, a friend or family member may have the perfect home for the party. Remember, "destination" doesn't always mean far from home. If you want to invite many friends, you should choose a location within driving distance that offers super unique aspects. 


2. The Food and Drinks
What's a party without good food and delicious drinks? When planning a destination birthday party, it's important to consider the number of guests, how long it will last, and the amount of food and drinks needed to satisfy everyone. One option is to have the party catered. Another option is to have everyone bring their favorite snack to enjoy during the day and then go out to dinner in the evening. If your chosen location has a kitchen, it's much easier to prepare food and drinks throughout the event. For Regina's 30th, we purchased sandwiches and snacks for lunch and enough booze to keep the drinks coming. (Plus, charcuterie boards for a snack in the afternoon and a dinner out, but we'll get to those details later.)
3. The Decorations and Details
All the decorations throughout the space made Regina's 30th destination birthday party super festive. Everything inside and outside the house was decorated, from elaborate balloon bouquets to customized party favors. There wasn't a room that didn't have "party time" written all over it. While decorating the space takes time and planning, it is definitely worth it. Not only do the decorations enhance the vibe of the event, but they also make for great photo ops! 

4. The Events and Entertainment
We planned three main "events" for Regina's destination birthday: a daytime pool party, an afternoon yacht ride, and an evening dinner. Each event required detailed planning to ensure the day went smoothly, including booking the yacht reservations ahead and planning enough time for everyone to get ready for a fancy dinner.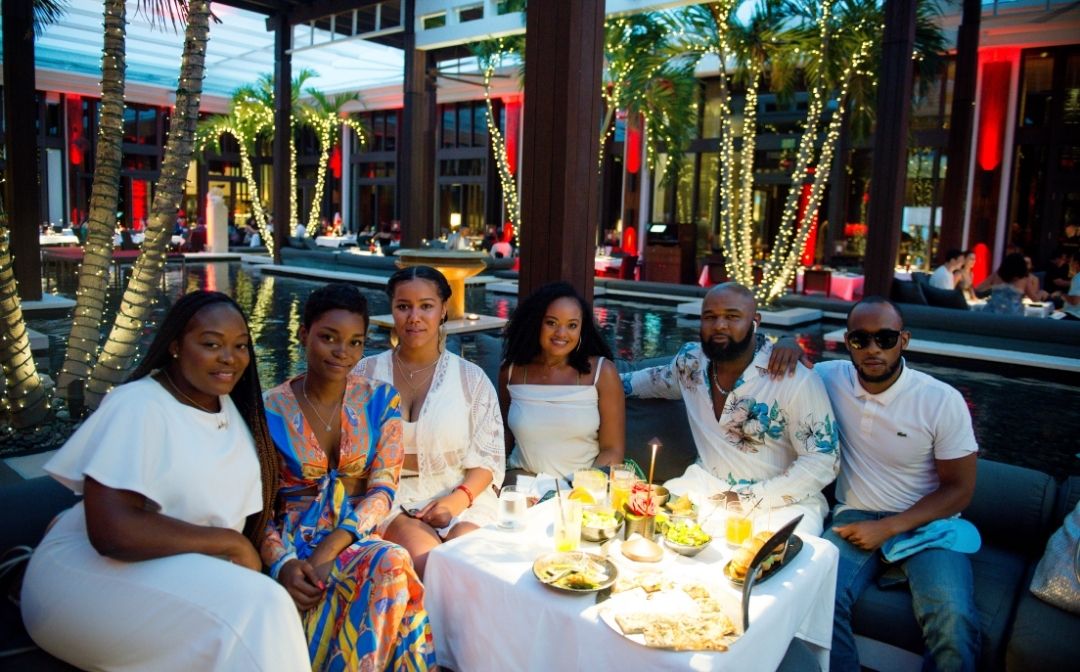 While planning a destination birthday party takes preparation and planning, the outcome is definitely worth it. The first step in throwing a successful, one-of-a-kind destination party is finding the perfect location. This might sound daunting, but we have plenty of ideas on where to go depending on your location. Next, think about how much food and drink you'll need, including dessert! Go all-out with decorations, and make sure to provide plenty of entertainment throughout the day or weekend.
Destination Party Planning with Park Avenue Events
If all these details still sound like too much work, don't worry! At Park Avenue Events, we can help you plan a one-of-a-kind destination birthday party you and your guests will never forget. We will handle every detail leading up to and during the party to ensure everyone has an exceptional time celebrating! Contact us today to learn more about our special event planning services.