Once your wedding is planned and the details are set, it's time to celebrate with your girls! Your bachelorette party is one of the most exciting events (besides your wedding itself, of course), so we want to help you make it memorable! We've all heard of the classic bachelorette party with a spa day and night out, but what if you want to kick it up a notch with a weekend to remember? We've got you covered! Be inspired to throw the event of a lifetime with these five incredible destinations and unique bachelorette party ideas.
5 Bachelorette Party Destinations and Ideas of What to Do There
Whether your bachelorette crew is big on adventures or prefers a more quiet and laid back weekend, there are destinations and activities for everyone. We've done the research and compiled the best bachelorette party locations and bachelorette party ideas so you don't have to. Read on to learn some of our favorite spots and creative activities to make your bachelorette event one to remember!
Savannah, GA
We love Savannah, Georgia as a bachelorette party destination for so many reasons. Whether you're getting married in Georgia or not, Savannah is a great place to celebrate with your best friends before you tie the knot. Here are some reasons we love Savannah, GA and bachelorette party ideas for your stay there!
Why We Love Savannah, GA
The beautiful cobblestone streets, large trees, and moss-covered buildings make Savannah, GA a picturesque location for a bachelorette party. The quaint and beautiful scenery creates wonderful photo opportunities for the girls as you roam the streets.

When thinking of bachelorette party ideas in Savannah, there is really something for everyone. Whether your crew enjoys a night out on the town or a relaxing spa day, there's no shortage of activities. 

If you love to take a stroll and pop into various quirky shops and businesses, Savannah is the perfect place for that! An afternoon wandering down the streets and through the parks creates an incredible way to catch up and bond with your besties.

Savannah, GA is rich with culture and history! The classic southern charm and beautiful historical sites make for an enriching and memorable experience for you and the girls.
Bachelorette Party Ideas in Savannah, GA
Austin, TX
Some say Austin, Texas is the best place to throw a bachelorette party, and if you're a foodie, they may be right. This bustling town has some of the best restaurants, food trucks, and fun bars in Texas. When it comes to bachelorette party ideas, the options here are limitless! 
Why We Love Austin, TX
Austin, Texas has some of the best food in the country. Whether you want traditional American food with a twist, or something completely foreign, they've got it.

While the food is incredible, the ambiance is even better! Austin has a wide variety of nightlife, live music, and rooftop bars to explore around the city. 

Austin's downtown area is an incredible place to walk around. With vibrant street art for photoshoots, fantastic food trucks if you get hungry, and cute shops to duck into, a day on the town can be a whole event itself.

A lot of the best spots in Austin, TX are walkable! Whether you choose to post up on 6th Street or head over to Rainey Street, you'll have many food, drink, and nightlife options right at your fingertips.
Bachelorette Party Ideas in Austin, TX
The bachelorette brunch has been done time and time again, but the

Twisted Texas Brunch Bus

brings your brunch game to a whole new level! 

When it comes to unique bachelorette party ideas, a fun one is to join a live music crawl. You can spend a day or evening drinking, dancing, and enjoying some great tunes with someone guiding you to each location. 

If you're craving some time outside, you can always take your crew to one of Austin's many lakes or rivers for a chill day outdoors or a nice afternoon float.

Texas wine country, paired with the cutest German village is just outside of Austin! Spending a day in Texas Hill Country followed by a quaint dinner in Fredericksburg is a great way to spend the day with your girls.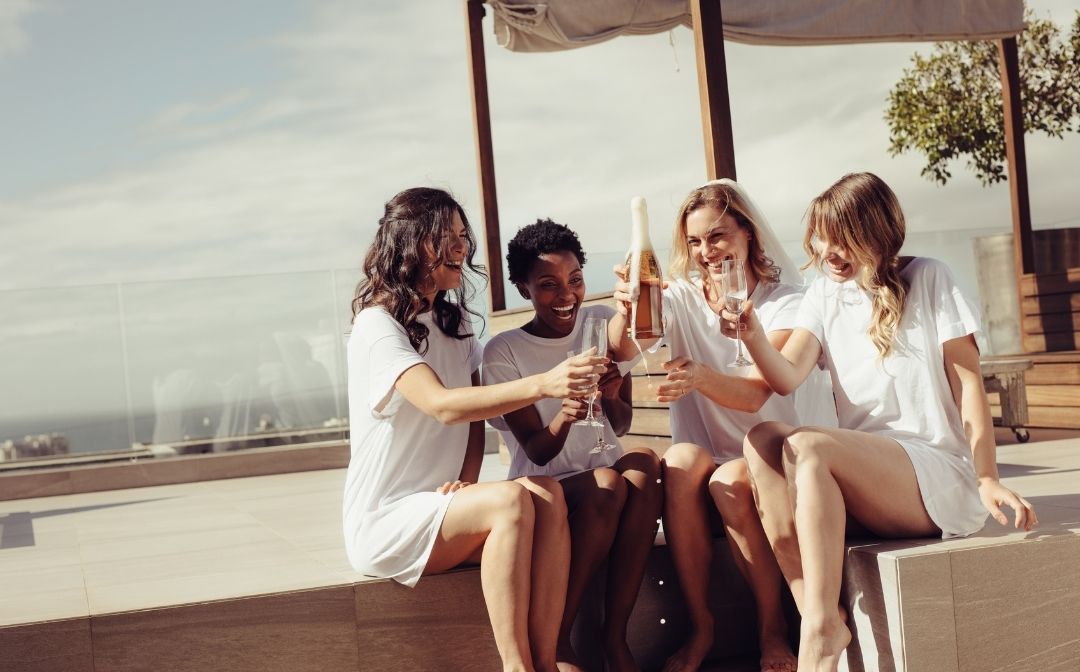 Nashville, TN
Nashville, Tennessee is hands-down the best bachelorette party location for music lovers! With many themed restaurants, bars, and venues, the show goes on night and day in this city. Below are some bachelorette party ideas for your stay in Nashville that you don't want to miss!
Why We Love Nashville, TN
This big, bustling city is known for being a music mecca and its small-town, southern hospitality. Planning a bachelorette party here provides all the excitement of a big city paired with classic hometown charm.

Talk about glamorous! Even the most simple events will always have an element of flair to them in Nashville, Tennessee. 

Nashville has some amazing bars and restaurants. Whether you're looking for a classic southern plate or something more unique, there are options for everyone.

There is so much to see in Nashville! Even just walking around the downtown areas provides some sort of entertainment, which makes the bachelorette party ideas flow freely!
Bachelorette Party Ideas in Nashville, TN
Get ready to laugh harder than you have in a long time by signing up your bachelorette crew for line dancing classes. This bonding experience will bring you all closer as you stumble through the steps your instructor does with ease. 

Want a wonderful tour of the city paired with exquisite entertainment? Book a trip on a drag bus to party with some incredible drag queens while being shuttled past Nashville's most historic landmarks.

Want to try your hand at something new? You can book music classes at the

Country Music Hall of Fame

! Whether you write a song together or try your hand at individual instruments, this is a bachelorette party idea that your gals will remember.

End your trip by booking a performance at the

Grand Ole Opry

. This iconic venue hosts iconic artists, and your bachelorette party just wouldn't be complete without enjoying it.
Lake Tahoe, CA 
If you're looking for a weekend getaway full of adventure and a little bit of nightlife, Lake Tahoe is a go-to bachelorette destination. With the two sides of the lake providing a unique ambiance, the bachelorette party ideas are limitless. A bachelorette party in Lake Tahoe is one you and your bridesmaids won't soon forget!
Why We Love Lake Tahoe, CA
Lake Tahoe is hands-down one of the most beautiful places you can visit in California. With its stunning blue water and mountain views, this is a location your girls will be talking about for months.

The gorgeous blue lake has two exciting areas to spend your time with totally different ambiances. North Lake Tahoe has small mountain town vibes, while South Lake Tahoe has all the nightlife and casino for your party vibes.

This destination is the perfect bachelorette party location year-round! Rich with water activities in the summer and snow activities in the winter, it doesn't matter when you book your stay; there will be plenty of activities for your crew.

When it comes to adventure, Lake Tahoe has it all: kayaking, snowboarding, hiking, skiing, horseback riding, mountain biking, jet skiing, rock climbing–you name it!
Bachelorette Party Ideas in Lake Tahoe, CA
Rent kayaks with the girls and join a guided tour or venture on your own to explore the beautiful coves and clear blue water on a warm, sunny day. Enhance the experience by packing a picnic and finding a cute spot to pull over and relax for a bit.

For adventurous souls, hiking around Lake Tahoe is an enriching experience. Every turn reveals a new view of the pristine, blue lake and its neighboring mountains, creating incredible photo ops. 

Need a break from all the adventuring? Pick one of the many beautiful shores along the lake for a beach day or some afternoon wine tasting at one of the local wineries.

While you may be an adventurous crew, you might still crave a night on the town. South Lake Tahoe is known for its late-night scene with many casinos, restaurants, and live music venues to keep the party going!
Las Vegas, NV
If you and your girls are craving a classic and lively weekend, you already know Las Vegas is the place to go! From its thrilling nightlife to extravagant shops and hotels, there are endless options for partying. However, there are also many unique bachelorette party ideas in the area if you want to switch things up.
Why We Love Las Vegas, NV
You can walk EVERYWHERE! This makes staying in Las Vegas so easy, especially after you've had a few drinks and don't want to drive.

Not to mention, the airport is literally steps away from the strip, so you don't have to rent a car. Just call an Uber or Lyft to get you downtown!

Las Vegas isn't just about partying and gambling; it's about performance! Everywhere you look, something spectacular is happening, whether you're just walking down the strip or grabbing lunch.

Las Vegas really has it all, including indoor skydiving, insane performances, incredible shopping venues, spectacular spas, and even golf courses if that floats your boat!
Bachelorette Party Ideas in Las Vegas, NV
Go see a show! Whether you're craving some rowdy entertainment like the

Magic Mike Show

or

RuPaul's Drag Race

or something more enchanting like

Cirque du Soleil

and

Blue Man Group

, Las Vegas has it all.

Did you know you can book a gondola ride on the Venetian's canals in Vegas? Let your singing boat captain (yes, I said singing) dazzle you on a fancy boat ride in an authentic gondola past the cafes and scenic views of the city.

If you're craving a little more adventure, consider booking a

Pink Jeep Tour

! This event will take you and your girls on a beautiful ride through one of the many scenic canyons in the area.

Hang out at The LINQ Promenade for the day! This area has a variety of restaurants, bars, and entertainment to keep your friends happy and provide a variety of activities to please everyone.
You Plan the Bachelorette Party; We'll Handle the Wedding
Planning your bachelorette weekend just got a whole lot easier with these incredible bachelorette party ideas! And we can make it even more stress-free by handling all the elements of wedding planning, so you can focus on your bachelorette weekend. At Park Avenue Events, we have multiple event planning packages to take all of the little details off your plate. You enjoy your bachelorette party, and we'll handle the rest. Contact us today to learn more!