When you think about a destination wedding, does your mind automatically picture some tropical paradise outside of the United States? Maybe you envision a Caribbean beach or an island of the Bahamas. These are beautiful locations for a destination wedding, but not all destinations have to be out of the country, or tropical for that matter. A destination wedding simply means a wedding in a couple's dream location, however close to or far from home that is. At Park Avenue Events, couples use our destination wedding planning services for Georgia weddings, out-of-state weddings, and out-of-country weddings. Read on for our best destination wedding planning tips!
What is a Destination Wedding?
A destination wedding simply means a ceremony that takes place miles away from your home. It doesn't necessarily mean an out-of-state or out-of-country destination, although it can. Destination weddings typically take place in beautiful, famous, or non-traditional locations, like Barnsley Resort in Adairsville, GA (pictured throughout this blog post), Lake Tahoe in sunny California, or the sandy beaches of Mexico.
Choosing to have a destination wedding is a big decision because it changes the type of wedding you have. For example, suppose you're local to Georgia and want a large wedding with all of your friends and family in attendance. Yet, you still want that destination wedding experience. In that case, you can choose an in-state destination venue. If you are ok with a smaller guest list and want to get out of state without leaving the country, select a destination that friends and family can quickly fly or drive to. If you don't mind an intimate ceremony with only a few of your closest friends and family who will make an out-of-country trip, you can choose your ideal location anywhere in the world.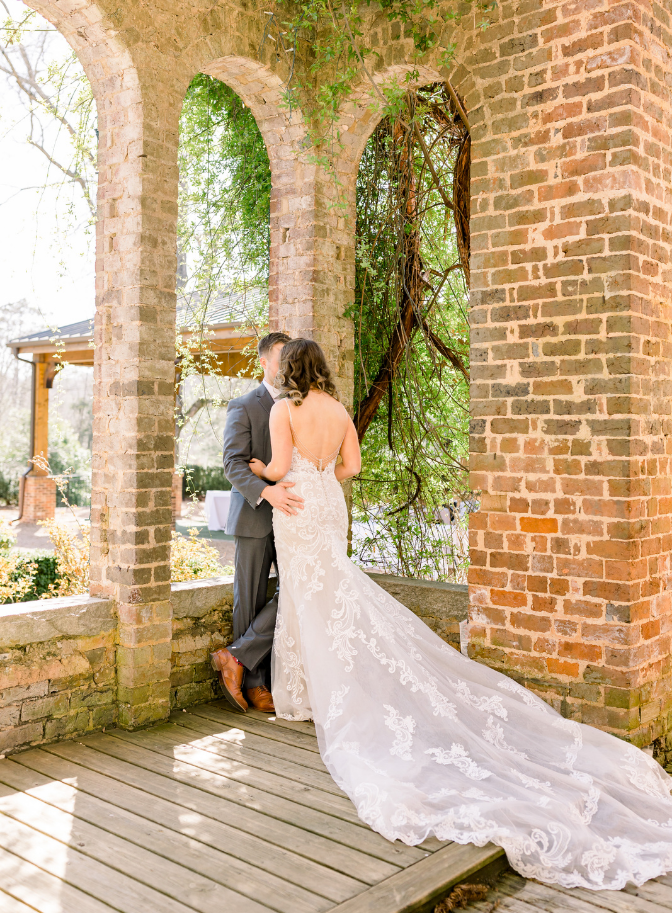 7 Destination Wedding Planning Tips
Destination wedding planning takes a lot of time and dedication. Use these seven tips to help you plan the wedding of your dreams.
1. Hire a Destination Wedding Planner
Regardless of the type of destination wedding you want, you need to hire a wedding planner who knows all about planning weddings in various locations. Destination weddings take detailed planning and coordination, especially when they aren't close to home. Having a wedding planner by your side from the start will make the entire process go smoothly.
2. Visit the Location if You Can
If you've never been to your dream destination wedding location, you should plan a trip to visit before you decide to have your wedding there. Of course, this may not always be possible, but it is good to know more about the surrounding area before you and all your guests arrive for the first time.
3. Consider the Time of Year and Weather in Your Location
This is especially important if you choose to have your wedding in a different country. For example, summer in the US is actually winter in Australia. So if you want a warm-weather wedding in AUS, you'd need to plan it for December, January, or February.
Additionally, even if you stay in the country, keep in mind that popular destinations are popular for a reason and are often tourist-heavy sites. If you want a more laid-back wedding, consider planning it during the "off-season" for your specific location.
4. Get Wedding Insurance
Wedding insurance is vital regardless of your type of wedding, but it is essential for destination weddings. 2020 clearly showed couples and wedding vendors alike the importance of protecting their investment should something unpredictable happen. When it comes to buying flights and securing lodging in an unfamiliar state or country, insurance becomes even more important. When searching for the best wedding insurance option, make sure to verify whether or not they cover destination-related circumstances. That way you're fully protected.
5. Choose Your Vendors Wisely
Your vendors play a key role in bringing your wedding vision to life. While some wedding vendors, like photographers and videographers, travel for destination weddings, others require you to book them in the state (or country) where they're located. Fortunately, a destination wedding planner can help you find the best vendors in any location. Rather than getting online and booking whoever pops up first, your wedding planner can help you interview and choose the right vendors for you.
6. Consider Your Guest List
Often, deciding whether or not to have a destination wedding comes down to the guest list. The truth is 200 guests aren't going to be able to travel to attend your wedding, no matter how much you mean to them! Keep this in mind when choosing your destination. If you simply cannot imagine getting married without all of your friends and family by your side, opt for an in-state destination wedding, where minimal travel is required.
However, there are ways to include everyone in the celebration of your marriage, even if you have your wedding in a different country or state. You can plan other wedding-related celebrations before you leave for the ceremony or when you get back. Additionally, you can set up a live video stream so folks back home can watch you marry the love of your life, even if they aren't with you in person.
7. Give Guests All the Information They Need
A destination wedding is a new experience for you and your guests. That means they will likely have many questions about the logistics of your wedding and the days surrounding it, from flight information to lodging specifics to transportation. Be as transparent as possible about guest requirements and expectations to make their experience spectacular.
For example, is the flight their financial responsibility? What about accommodations? Will you provide transportation to and from the wedding venue, or does your wedding occur at an all-inclusive resort? Are you planning to have a welcome party the day before your wedding or a send-off brunch the day after? These details are crucial. They determine everything from the flights your guests book to the clothes they pack to their experiences while celebrating with you.
The easiest way to provide all of the information is to include it on your wedding website. That way, instead of each guest texting and calling you with questions, they can find what they need in one place.
Destination Wedding Planning Made Easy with Park Avenue Events
Planning a destination wedding–no matter how far or close to home–takes a lot of work, but it is always worth it in the end. However, we definitely recommend couples have all the support they can get during the destination wedding planning process. Everything from coordinating with vendors in your desired location to shipping things ahead of time and ensuring they get where they're supposed to go to navigating guest needs on top of your own is made so much easier with an expert planner by your side.
Whether you want to get married in Georgia or somewhere far, far away, Park Avenue Events has the destination wedding planning services you need for a spectacular celebration. Let's talk more about your dream wedding and how I can help you bring it to life. Contact me today!